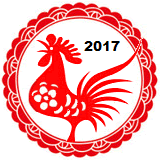 2017 Chinese New Year Day will arrive on January 28, 2017 of the China time zone. 2017 is the Year of Red Chicken according to the Chinese Horoscope Calendar. The first day of the Chinese Astrology Red Chicken year is on February 3, 2017. The Chinese Astrology Calendar system is based on the solar time, not the lunar time. Therefore, Chinese New Year Day is nothing to do with the Chinese Horoscopes.
The following Chinese Horoscope predictions include 2017, Year of Red Chicken and 2016, Year of Red Monkey. This brand-new revolutionary prediction combines the relationships between Chinese zodiac signs and Yin Yang Five Elements, plus the connections with 64 I-Ching Hexagram.
The 2017 prediction interprets the combining signs of your Chinese zodiac animal and the Chicken. Then it provides you the advice regarding to your career, money, love, people relationship, health, job changing and dispute of 2017.
Since you enter the birthday, we can know your Chinese Astrology Birth Chart. The Day Master in Chinese Astrology Birth Chart represents the person. Therefore, we also give your predictions for the relationship between your Day Master and the Chicken.
If you want to read your 2016 Chinese Monkey Year prediction, you need to select the '2106-Year of Monkey' in the Astrology Year option Listing.
This application will tell your animal sign of the birth year correctly. The yearly boundary is at around February 4 each year, not the Chinese New Year Day. Read more about your animal sign...
Select current Chinese zodiac year
Select Birthday using Western Gregorian calendar
Optionally select Time Zone of birthplace. Find Time Zone, click here
Press Submit button to get your predictions